I'VE WRITTEN A BOOK!
I am a master procrastinator.
There are only two things I have followed through on in my life.
(I'm exaggerating slightly but it makes for a better story.)
One of those was my pregnancy.
nature gave me no option lol.
The other one was completing this book.
It took blood, sweat, and tears, as well as enthusiastic coaching from a support network to ensure both products were birthed properly.
But I managed it.
So I introduce to you my newly born, but strangely named,
"BLUE JELLYFISH SYNDROME"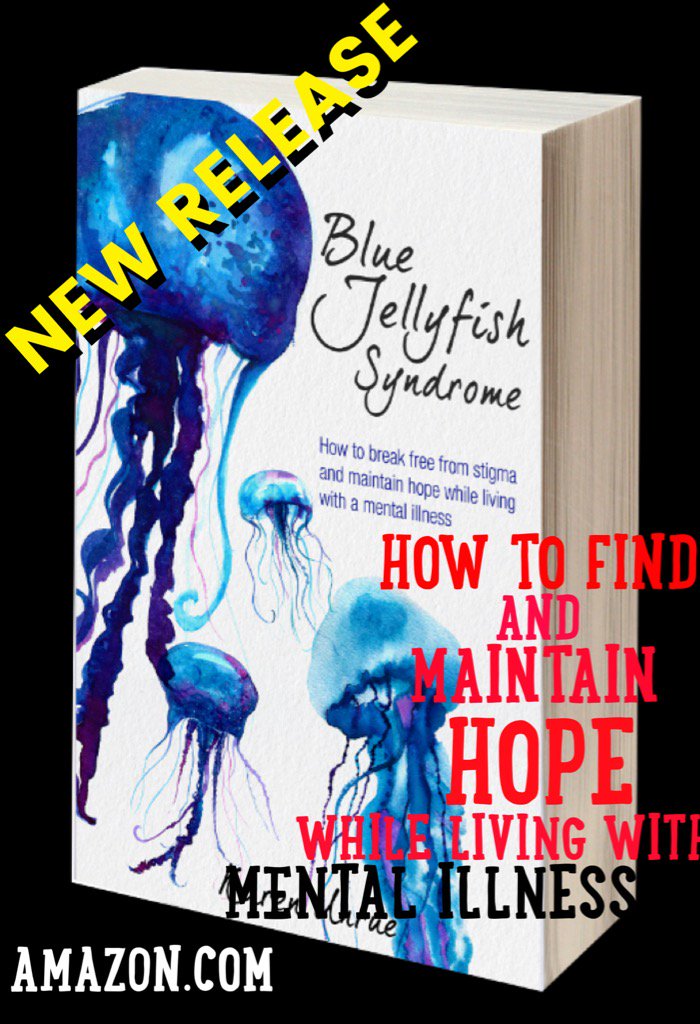 //ws-eu.amazon-adsystem.com/widgets/q?ServiceVersion=20070822&OneJS=1&Operation=GetAdHtml&MarketPlace=GB&source=ac&ref=tf_til&ad_type=product_link&tracking_id=thetilteroom-21&marketplace=amazon&region=GB&placement=B06ZYBCTXG&asins=B06ZYBCTXG&linkId=&show_border=true&link_opens_in_new_window=true
I could not be a prouder parent.
In this book you will read how my mental illness,
COMPLEX PTSD,
developed and how over the years I learnt, with the help of my community mental health team
and, eventually, a great therapist,
to manage my symptoms.
It has been a very challenging journey indeed,
and as I'm sure many of you will appreciate,
I felt like giving up at times.
Mostly this book is about
HOPE
and how you can find and maintain hope while living with a mental illness
so you can
SURVIVE AND THRIVE.
My hope is that as you read it my journey will help you along your journey a little
4 Responses to "I'VE WRITTEN A BOOK!"
Congratulations on your new book!

A huge congratulations on your book, that's awesome! I love your sense of humour and the contribution you have made to the mental health movement. As such I have chosen you as a recipient for the Blogger Recognition Award 2017. Check out my link to find out more about the process 🙂

http://familyfurore.com/blogger-recognition-award-2017/

Thanks Kat – I am passionate about drawing alongside others on their journey with mental health issues. I appreciate your comments and for putting my blog forward for this award. Thank you

I take inspiration from you Karen. It's my absolute pleasure – the more we recognise and promote each other, the more we can help our cause.